Allan's Paperweights
Lassman & Co., Ltd. - Makers of Barware and Other Items
---
Lassman & Co Ltd was founded by Samuel Lassman on December 31, 1941. After World War II, the company manufactured a number of items designed or invented by Samuel Lassman. These included:
Automatic corkscrews
Variety of bar items including complete bar sets
Magnetic knife racks
Letter openers
Paperweight collectors are particularly interested in the paperweight handled items, which include the following pieces:
Corkscrews
Bottle stoppers
Two piece pourers
Bottle openers
Can piercers (openers)
Claret spoons in two sizes (Lassman called these swizzle sticks with a barley twist stem).
Double jigger
Letter opener
Complete Bar Set
Case is marked MADE IN ENGLAND on the bottom

Click on picture to see details

Double Jigger Measure
3 7/8" wide by 3 1/4" long
The cups are marked 1 oz. and 1 1/2 oz. and MADE IN ENGLAND

Click on the picture to see a composite with more details. The cups are marked 1 oz. and 1 1/2 oz.

Corkscrew
4 1/8" long by 1 1/2" diameter
Marked ENGLAND

Click on the picture to see a composite with more details

Two Piece Pourer
3 1/2" long by 1 7/8" diameter
Cork is marked MADE IN ENGLAND

Click on the picture to see a composite with more details

Bottle Opener
3 7/8" long by 1 1/2" diameter
Marked ENGLAND

Click on the picture to see a composite with more details

Can Opener
3 1/2" long by 1 1/2" long
Marked ENGLAND

Click on the picture to see a composite with more details

Claret Spoon
10" long x 7 1/16" diameter
Unmarked

more pictures coming
The paperweight handles were made by Vasart Glass (and possibly later by Strathearn Glass) in Perth, Scotland. Lassman & Co. purchased their paperweight handles from George Dunlop who marketed Vasart glass and paperweights under his own Pirelli Glass label. Current information is that all assembly was done by Lassman, although some collectors believe that Vasart may have done some assembly using parts provided by Lassman. The Lassman firm may have also purchased other paperweight handles from other sources, although no examples of this are known.
Aside from the glass paperweight handles, all the other parts were made at the Lassman factory in the Kilburn borough of North London. Assembly also took place there. The firm was located in a converted townhouse at 306 Kilburn Lane. The site is now occupied by Jugg Foods. It was never a large firm and at its peak employed about ten people including managers.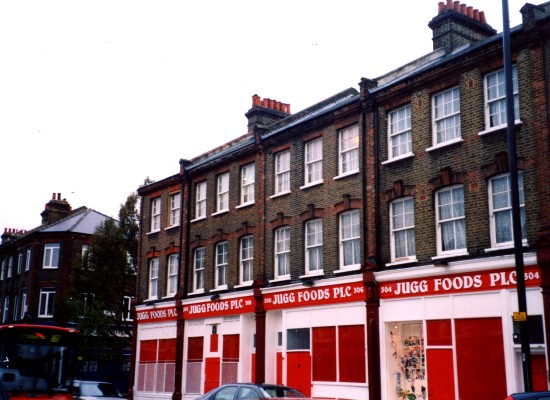 Shown below is a collection of objects still in the Lassman family collection. Note in particular the previously unknown configuration with a paperweight mounted on a brass base.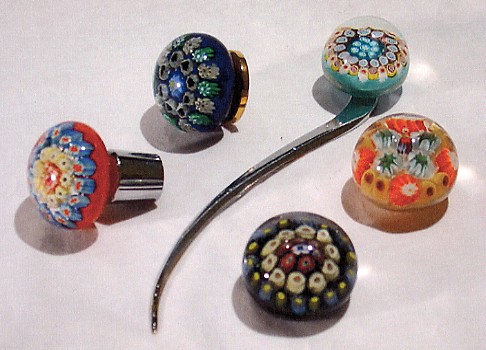 Not all items made by Lassman had paperweight handles. A corkscrew collector has kindly provided this picture of a mechanical corkscrew with a metal handle and it's original box: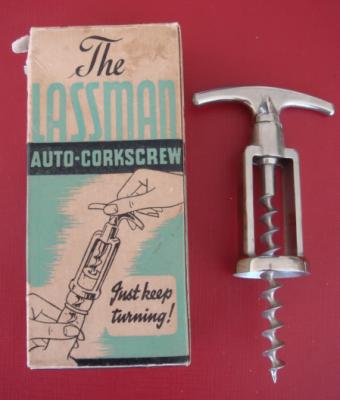 (Photo courtesy of Volker Leidner)
Other interesting facts:
The corkscrews were cut on a lathe from a solid cylinders of steel. This is different from most corkscrews which are either forged or made from twisted wire. The required machinery to make the corkscrew were designed and built in-house
Corkscrews were produced not only as bar tools but also for the extraction of packing glands (gaskets) in ship engines. The packing gland extractors were sold in sets of six different sizes, from 0.125 inch screw width to 1.5 inch width, each with a T handle on a twisted steel stem up to 15 inches in length
The can piercer (opener) cutting angle was specially calculated by a mathematician hired for the purpose and paid £50 for the job
The bottle openers were cut from extruded brass bars designed for the purpose
Individual items were sold separately in special boxes and there were also smaller sets. The complete bar set was the top of the range and sold for approximately £25
The fancy cases, such as for the bar set, were made by Seige & Co in London
The items were finished in a chrome plate or in rarer cases a gold plate
The company also made very few gearshift knobs on special order. However Vasart also made gearshift knobs and all of the known examples are Vasart and not Lassman.
Prior to World War II, Samuel Lassman was a master jeweller working for Garrards, the Crown Jewellers. He worked on the Crown Jewels for the coronation of King George VI, who was became King when King Edward VIII abdicated on December 11, 1936. The coronation was on May 12, 1937. Below is a picture of Samuel Lassman remodeling the Queen's Tiara.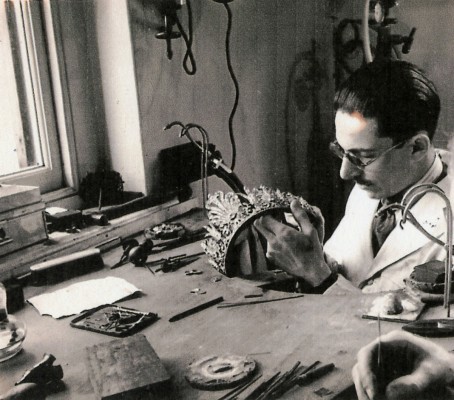 Samuel Lassman's son, Malcolm Lassman, was the Managing Director director of the company in the 1970s and 1980s. Another son, Lionel was also involved in the company for a few years and was also a director. In 1986, Jack Halsey, acquired the firm and moved it to Watford in Herts where it continues to make padlocks and other products under the name Lawrence Churchill Ltd. Jack had previously been the foreman and manager of the company after Samuel Lassman died in 1971.
Special thanks to Malcolm Lassman who provided much of the information and some of the pictures for this page.
If you have any comments or information, please e-mail me at: aport@paperweights.com
Back to Allan's Paperweights (www.paperweights.com)
Copyright © 2006 Allan Port
Revised 12/3/2012